If you have a passion for Art, then you've probably visited a few art museums to see different exhibits, learn about the history of art, and admire popular artwork from some of the most famous artists in the world.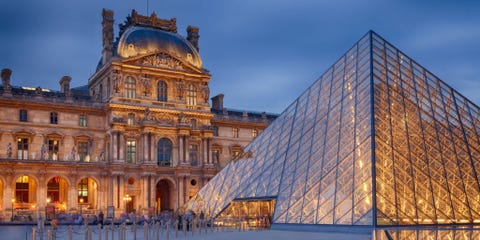 We love art just as much as the next person, which is why we've put together the top 3 art museums in the world. We have personally traveled far and wide to step foot through the doors of the following museums, and our experience has lead us to narrow the best art museums in the world to just three.
Without further adieu, here are the top 3 art museums in the world:
Smithsonian Institution, Washington, D.C.
The Smithsonian Institution in Washington DC is home of the world's largest complex with over 19 museum and galleries, the National Zoological Park, and countless research stations. You could spend a week at the Smithsonian Institution and still have to come back for more as the museum has over 137 million objects detailing America's history.
It's an absolute must that you create a plan for your visit and stick to the itinerary of what you want to see, and when you want to see it. It is said that if you just spend one minute day and night looking at each object in the museum, it would take 10 years to cover just 10% of the whole.
Ya, that's a lot of walking. That's also why the Smithsonian Institution is the top Museum in all of the world.
The Acropolis Museum, Athens, Greece

What makes this museum stand out from the rest is the transparent ground gallery that takes you on a journey throughout history, literally. You can see beneath your feet the archaeological excavation, while moving upward to the Acropolis with sanctuaries of the Athenians from each historic period nearby.
If you're looking for reviews, the Acropolis Museum in Athens, Greece has over 21,000 Google reviews with a 4.7/5 star online reputation. 21,000 reviews speak for itself.
State Hermitage, St. Petersburg, Russia

If you're wondering how Russia made our list with artistic centers of the world like Paris, Rome, and London, then please, just wait, we'll explain ourselves.
State Hermitage has made our list because they have collected over three million items of history, spanning from the Stone Age to the early 20th century. We believe that's pretty special and the main reason why State Hermitage deserved to make our list.
If you're still not convinced, just know that State Hermitage is home of famous painters like Rembrandt, Rubens, Tiepolo, Titian, da Vinci, Picasso, Gauguin, Cézanne, van Gogh who are featured in the four buildings and 120 rooms. This place is pretty special, and if you've never made it to Russia before, then you might want to consider making a trip especially for State Hermitage (but seriously, who wants to visit Russia anyways, maybe Donald Trump?)
Our list is short, but we don't care. We've visited the worlds top museums and compiled this short list from our experience and findings. We know a thing or two about art and it's history, and we believe these three museums are the top three art museums in the entire world.